Developing a new National Long-Term Care Services Standard
The Standards Council of Canada (SCC), Health Standards Organization (HSO) and Canadian Standards Association (CSA Group) are working collaboratively on developing two new national standards for LTC that will be shaped by the needs of residents, families and Canada's LTC workforce.
HSO is co-designing new standards for care and services provided by Canada's long-term care (LTC) homes. Our goal is to ensure that the more than 250,000 Canadians who call LTC settings their home receive the high quality of care they need and deserve.
You can learn more about this work at their official website www.longtermcarestandards.ca
A 32 Member National LTC Services Standard Technical Committee has been selected from 250+ Applicants, from 11 provinces and territories, and bringing a mix of experience and expertise to this work ahead.
News Release- https://longtermcarestandards.ca/technical-committee
TC Members Bios – https://longtermcarestandards.ca/members
The Committee will begin its important work soon – and one of the first things they are trying to do is ensure its initial work and directions are informed by as many Canadians as possible through their inaugural online survey that was recently launched https://longtermcarestandards.ca/your-input
June Is Seniors' Month!
Please join the Older Adult Centres' Association of Ontario (OACAO) on Wednesday, June 23rd at 11 am as we host a Virtual Town Hall with Hon. Raymond Cho, Minister for Seniors and Accessibility and Daisy Wai, MPP. 
Hear remarks from Hon. Raymond Cho and MPP Daisy Wai. Learn from a volunteer about their volunteer experience in their community and learn more about the Ontario Community Support Program. 
The event will include a Question and Answer Period with Ministry officials. Feel welcome to submit questions in advance to be considered for the Q & A period.  Questions must be submitted by June 21st at 4:00 pm using the registration form.
Please register in advance at: https://oacao.wildapricot.org/event-4370671
or call 1-866-835-7693 or email Lina at coordinator@oacao.org 
Registration will close on June 23rd at 10:00 am.
This event is free and will be held on the Zoom meeting platform. A phone in option is available. 
Note: ASL interpretation will be available, as well as CART (Communication Access Realtime Translation) Services. Please let us know if you require any other Accessibility Accommodations. 
Please visit the link for more information: Virtual Town Hall – June 23rd FINAL
For more information please email Brad at bspooner@nrocrc.org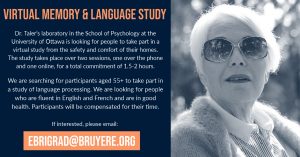 Virtual Memory and Language Study – the University of Ottawa – School of Psychology is hoping to find candidates 55+ to take part in a study of language processing.  They are searching for participants who are fluent in English and French and are in good health.  Participants will be compensated for their time.
If you are interested please email: EBRIGRAD@BRUYERE.ORG
Vaccine Booking
Visit Ontario.ca/bookvaccine to access the provincial booking system or call the provincial vaccine booking line at 1-833-943-3900 between 8 am and 8 pm, seven days a week to book your second shot or try to move the date of your second shot.
Younger age groups will be announced as we move forward.
When you book your appointments through the provincial booking system, you will receive a confirmation code. Please bring this code with you when you go to your appointments. If you do not have a confirmation code, your appointments were not successfully completed. Please revisit the provincial booking system or call 1-833-943-3900 to book your appointments and receive your confirmation code.
Please sign up for the City of Ottawa's COVID-19 vaccination updates e-subscription to get the latest updates on when the vaccine becomes available to these groups. You can also share this information with friends and family to ensure they get the latest information straight from the source.
Transportation services are available for those who require transportation supports.
Misinformation, disinformation and scams
Webpages:
Social media:
Transportation to COVID-19 vaccination clinics
Residents who are eligible for vaccination are encouraged to make a transportation plan in advance of their appointment. This could include asking a family member or caregiver to provide you with a ride to your designated vaccination clinic.
If you are a Para Transpo user, you can book your ride to the vaccination clinic through the COVID-19 Vaccination Trip Reservation telephone line at 613-842-3600.
If a transportation option is not available to you, you can request a ride to and from the clinic through Ottawa Community Transportation after you have booked your appointment. Ottawa Community Transportation will contact you directly.
If you or someone you know require transportation but do not have online access, please contact 211 and they will help complete the transportation request form on your behalf. Please have your vaccine booking confirmation number available when calling.
COVID-19 protocols are in place to ensure the safety of the rider and the driver, and wearing a mask is mandatory.
 Notice to G50+ 2020-2021 Members in good standing as 
Members can join Fitness on Zoom courtesy of Gloucester 50+ Centre!
All Participants must have their camera turned on.
CoreFit on Mondays
Join Susan Sloan Mondays on Zoom from 11:30 am to 12:30 pm (no class June 28)
Write It Now (WIN)
Join Gary Johnson Mondays on Zoom from 1:00 pm to 2:00 pm
Zumba Gold on Wednesdays
Join Susan Sloan Wednesdays on Zoom from 12:15 to 1:15 pm (no class June 30)
Yang Style Tai Chi   
Join Yuko Suzuki  on Wednesdays on Zoom from 11:05 am to 12:05 pm
Mat Yoga and Chair Yoga Thursdays
Join Kim Bolton on Thursday's s on Zoom for Chair Yoga 9:30 to 10:30 am (no class June 24 or July 1) and Mat Yoga 10:45 to 11:45 am (no class June 24 or July 1)
Chair Core Fitness Thursdays (available until June 24, 2021)  
Join  Nina LePage on Zoom from 11:30 am to 12:30 pm
If you are interested in joining the classes listed above please email me at soatway@storm.ca
Senior Centre Without Walls Programs Gloucester 50+ Centre Call toll free 1-855-899-3213 – G50+ Coffee Chat Tuesday's at 10:00 am
Senior Centre Without Walls Programs Eastern Ottawa Resource Centre
 for information contact Nadine White at 613-741-6025 X325  nwhite@eorc-creo.ca
ZOOM Meetings – Tim Tierney Coffee Chat TBD
---
Important links to Senior Services and Information
For Information on Cancer Coaching (5 hours of free counselling) https://www.ottawacancer.ca/
The University of Ottawa Heart Institute (Heartwise)
Fantastic  FREE Resources.  Please visit the link below and explore the vast array of programs to join!
https://pwc.ottawaheart.ca/resources/covid-19
Tired Sole Complete Medical Foot Care 613-823-3668 or book and appointment on line at  http://tiredsole.com/contact/
Below is the new free online mental health support available to all Canadians
https://can01.safelinks.protection.outlook.com/?url=https%3A%2F%2Fwww.mindbeacon.com%2Fstrongerminds%3Fgclid%3DCj0KCQjwhtT1BRCiARIsAGlY51JBhzzokDSE9Z9LlXfEGA8_2NFckRaGWBmjFxWCUj3QjxQ6drQA5_saAoSFEALw_wcB&data=02%7C01%7CMonique.Guilbault%40ottawa.ca%7C592b5522e19449ee24ea08d7f35c2413%7Cdfcc033ddf874c6ea1b88eaa73f1b72e%7C0%7C0%7C637245449504102858&sdata=r1%2FqZsImO%2Bkkt51gi2o3%2BB%2FGNsBN3bAcN5UV3rzmMuE%3D&reserved=0
Champlain Community Support Network – Senior Services
http://communitysupport.covidresponse.ca/
https://www.ottawapublichealth.ca/en/public-health-topics/novel-coronavirus.aspx
https://www.eorc-creo.ca/EORC.php
Eastern Ottawa Resource Centre 613-741-6025 x 300