Friday January 15th Coffee Chat with Tim Tierney – See below for Zoom Details!!
2020-2021 G50+ Membership
If you have already renewed your G50+ Membership – Thank You.  If you wish to renew your membership, please email me for options.  There is limited access to the Centre at this time, it is easier to get in touch with me through email at soatway@storm.ca
The cost for Membership is $35.00.  If you are interested in the Zoom fitness programs, with Membership and a Physical Activity Readiness Questionnaire you can join the classes free of charge.  We can complete all forms over the phone, or simply print and send them to the Centre.
Members can join Fitness on Zoom courtesy of Gloucester 50+ Centre!
All Participants must have their camera turned on.
CoreFit on Mondays
Join Susan Sloan Mondays on Zoom from 11:30 am to 12:30 pm
Write It Now (WIN)
Join Gary Johnson Mondays on Zoom from 1:00 pm to 2:00 pm
Zumba Gold on Wednesdays
Join Susan Sloan Wednesdays on Zoom from 12:15 to 1:15 pm
Yang Style Tai Chi   
Join Yuko Suzuki  on Wednesdays on Zoom from 11:05 am to 12:05 pm
Mat Yoga and Chair Yoga Thursdays
Join Kim Bolton on Thursday's s on Zoom for Chair Yoga 9:30 to 10:30 am and Mat Yoga 10:45 to 11:45 am
Chair Core Fitness Thursdays
Join  Nina LePage on Zoom from 11:30 am to 12:30 pm
---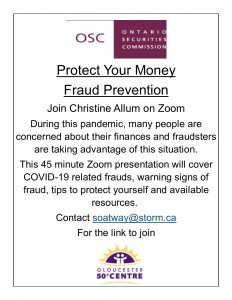 ---
If you are interested in joining the classes listed above please email me at soatway@storm.ca
Senior Centre Without Walls Programs Call toll free 1-855-899-3213 – G50+ Coffee Chat Tuesday's at 10:00 am 
ZOOM Meetings – Tim Tierney Coffee Chat Friday January 15!!!!! Special Guest –
Lucille Collard is a Canadian politician, who was elected to the Legislative Assembly of Ontario in a by-election on February 27, 2020. She represents the riding of Ottawa—Vanier as a member of the Ontario Liberal Party.
Jan 15, 2021 11:00 AM 
https://us02web.zoom.us/j/85317100325?pwd=ekVTTGNzYVIzblJVT0ZwUWRQcnoxdz09
 Meeting ID: 853 1710 0325
Passcode: 255894
---
Important links to Senior Services and Information
For Information on Cancer Coaching (5 hours of free counselling) https://www.ottawacancer.ca/
The University of Ottawa Heart Institute (Heartwise)
Fantastic  FREE Resources.  Please visit the link below and explore the vast array of programs to join!
https://pwc.ottawaheart.ca/resources/covid-19
Tired Sole Complete Medical Foot Care 613-823-3668 or book and appointment on line at  http://tiredsole.com/contact/
Below is the new free online mental health support available to all Canadians
https://can01.safelinks.protection.outlook.com/?url=https%3A%2F%2Fwww.mindbeacon.com%2Fstrongerminds%3Fgclid%3DCj0KCQjwhtT1BRCiARIsAGlY51JBhzzokDSE9Z9LlXfEGA8_2NFckRaGWBmjFxWCUj3QjxQ6drQA5_saAoSFEALw_wcB&data=02%7C01%7CMonique.Guilbault%40ottawa.ca%7C592b5522e19449ee24ea08d7f35c2413%7Cdfcc033ddf874c6ea1b88eaa73f1b72e%7C0%7C0%7C637245449504102858&sdata=r1%2FqZsImO%2Bkkt51gi2o3%2BB%2FGNsBN3bAcN5UV3rzmMuE%3D&reserved=0
Champlain Community Support Network – Senior Services
http://communitysupport.covidresponse.ca/
https://www.ottawapublichealth.ca/en/public-health-topics/novel-coronavirus.aspx
https://www.eorc-creo.ca/EORC.php
Eastern Ottawa Resource Centre 613-741-6025 x 300